Feb-5th-2010
With valentine's day fast approaching, valentinegiftstoIndia.com has just Love mugs for the purpose of gifting to ones loved ones in India. Love Mugs have become a rage this valentine's day and this company aims to bridge the emotions between people staying far apart. Love Mugs are special in the point of view of valentine's day as they not only stay after valentine's day but also make every morning, and the coming day, special. Sending Love mugs as valentine gifts to India has never been this easier.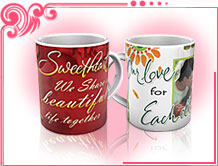 Love makes the world go round and valentine's day calls for gifting to one's beloved to show them how much you love, care and respect them. Gifting on this auspicious day is all the more necessary for the people who stay far away in a foreign land from their loved ones. Sending gifts on valentine's day only replenishes your relationship to an extent when distance vanish and there is only you and the person you love most. Love mugs are the in-things for this valentine's day and so sending them as gifts to India will be an excellent choice.
Love Mugs are the hot favourites on valentine's day and sending them is now a much more reality. We service to over 400 destinations across India and so you can be rest assured that sending gifts will now be hassle-free and your gift will reach your beloved within three to four working days. The CEO of our company says, "Love mugs make every morning of your beloved special. Send these beautiful mugs to India, today!" Send Love Mugs to your valentine on this auspicious day and your valentine's day will never be the same again.