Feb-6th-2010
The online gifting website ValentineGiftstoIndia.com, announces the launch of Love Cards collection, for the occasion of Valentine's Day. As Valentine's Day edges closer, the company is keen on offering something new and exclusive to its customers. Owing to the decent price tags attached to the gifts, customers have already made ValentineGiftstoIndia.com, the most sought after gifting website to send gifts to India on Valentine's Day.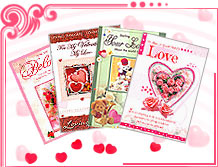 ValentineGiftstoIndia.com is an online gifting portal that serves the global Indian, enabling them to choose and send a variety of gifts to India, on the occasion of Valentine's Day. The heart shaped love cushions, love mugs, love teddies and range of personalized gifts flood the portal. The latest inclusion in its category of Valentine's Gifts is the Valentine Love Cards.
The variety of Love Cards are available in multiple price range to suit the budget of all. The heartfelt messages and the romantic quotations are the USP of these cards. There are some Handmade Cards, which allow a sender to engrave his/her personal thoughts. Furthermore, the thoughtful lines on the cards are etched in both Hindi and English. Colorful graphics and innovative designs make these cards worth choosing.
"Love Cards, when elegantly crafted and composed, can do wonders to impress your loved one.", said Mr. Amit Desai, the CEO of ValentineGiftstoIndia.com. He added, "The captivating illustrations and alluring visualizations of the cards will entice anyone and the warmth of love is rightly upheld by the meaningful and romantic lines."
ValentineGiftstoIndia.com has been in the business of online gifting since the year 1999. With plethora of gifts and competitive price, this company has already become an one stop e-shopping destination of many NRIs.