Feb-8th-2010
"Two souls with but a single thought, two hearts that beat as one." ~John Keats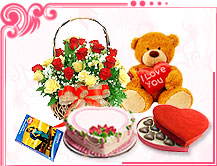 There is only one day which lovers across the world look forward to and that's Valentine's day. Valentine's day is the only day when lovers get the chance to profess their love in style. Indians staying abroad want to make this day special for their loved ones in India. And so they are in the look out for special ways in making valentine's day special for their loved ones in India. However, when you are busy in your own life, you may forget this day. And when it suddenly pops in your head that its valentine's day after couple of days, then you have a real problem at hand. But take heart, Valentinegiftstoindia.com has got one of the widest range of valentine gifts to send as gifts to India. We also have the perfect gift ideas for you to send a valentine gift to India in the last minute.
Gift Vouchers: You are in the midst of a meeting when it suddenly pops in your head that its valentine today, or may be, tomorrow. Your spouse in India is waiting for your return and you need to make her feel special but major websites now can guarantee you gifts to be delivered after the valentine's day. So, be a bit different than the lot and gift her innovative gifts vouchers which can be delivered throughout the country on valentine's day.
Soft Toys: Suddenly you wake up one day and you realise it's valentine's day ! take heart. We at valentinegiftstoindia.com have a whole lot of soft toys as valentine gifts for India. our efficient delivery system services to 400 destinations across India to make sure the gifts reach on time.
Flowers: Flowers are in huge demand throughout valentine's day celebrations for the purpose of valentine gifts in India. So, unless and until you book your delivery well ahead, there is pretty much a high chance of your loved ones getting a completely different arrangement of flower from the ones you originally wished for.
Cakes: Cakes are some of the most popular valentine gifts in India. We ensure that your loved ones receive the cakes send by you with all the love, care and respect. Cakes are available in many different flavours, types and shapes. If you want to truly treat your beloved then we have got 5-star cakes especially made for loved ones.
Chocolates: Of all the popular valentine gifts from India, chocolates are the first choice to send gifts to India. The first word that comes in the mind of people after hearing the word "chocolate" is "love." So gift your loved ones exclusive chocolates this valentine's day and tell them how much you love them.
Romantic books and CDs: Stores are over-flowing with people and if flowers and cakes are routine stuffs, then look no further and send a romantic book or a CD especially designed with romantic songs to your valentine in India. These are the perfect valentine gifts for India when your loved one is an avid book lover or likes romantic songs.
Hand-made cards: There is just one last valentine gift from India which you can send last minute and that's exclusive hand made cards. Cards play a special role in expressing to your loved one how much you treasure them and how much you love them.