Feb-11th-2010
ValentinegiftstoIndia.com has recently introduced Flower Baskets as a Valentine's day gift. The company has been serving the global Indians with varying range of gift items and enabling them to send these gifts to India on any occasion. With the plethora of gifts listed in its site, this comapny essentially aims to connect the Indians with their native roots. There are gifts for almost every occasion and events. The gift items are broadly categorized as per the occasion, thus helping its customers to select a gift according to their will and wish.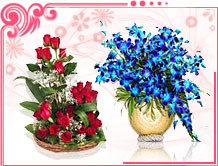 As the Valentine's day is knocking on the doors, ValentinegiftstoIndia.com has come up with multiple gifting ideas. There are Valentine chocolates, Valentine Flowers, Gift Hampers, Serenades and many more. Among all, its recently introduced Flower baskets stand a bit different from the rest. These flower baskets are filled with colorful Roses, Lilies Gerberas, Carnations and other seasonal flowers. The baskets are decked with nets, ribbons and varying eye catching decorations. "These Flower Baskets will make an apt Valentine gift" opined Mr. Amit Desai, the CEO of ValentinegiftstoIndia.com. He added on to say, " As the air blooms with love and passion, we offer some fascinating gifts ideas for all the loving hearts. Our collection of gifts will surely enthrall them and will let their message of love conveyed to their dear ones, in the most righteous gesture."
ValentinegiftstoIndia.com is among the list of the pioneer online gifting portals and its accolades and global recognition in the last couple of years, speaks for the company's stature itself.